Following is a guest post by Rajeev Edmonds from New Delhi, who publishes a blog called Mintblogger (I highly recommend subscribing if you haven't already).
____________________

Facebook is undoubtedly one of the most popular social media services used by individuals, businesses and non-profits to connect with people. Groups and Pages are excellent options to leverage the large network and reach of this popular platform. Lately, Facebook Pages have become quite popular among businesses to show their presence in a much better way building engaging and long lasting relationships with users and fans. Let's see how to make an interactive Facebook page that gives a reason to your fans to stay, interact and promote your cause.
Custom Image
Picture says a thousand words. Take a look at the Facebook page of Coca Cola. Not only does it brand the page, but it also grabs immediate attention of the visitor. Just as a successful blog needs a customized design, the key to a successful page is customized images that represents your brand.

You can try out various Facebook profile photo hacks to get the required effect you want.
New Features
Since the revised version of Facebook pages has been launched in March 2009, the layout and features have changed dramatically.
Tabbed interface – allows you to group the content and applications as per your requirements. Not only you can edit the default tabs, but you can also add new tabs giving you complete control in its customization.
You can freely drag them to arrange in required order. With new Facebook application standards in effect, almost every new application (internal or 3rd party) can be integrated with Facebook tabs. This opens endless opportunities to create customizable tabs with your choice of third party applications.
Direct feeds for fans – is another new feature that allows your fans to access the page updates directly from within their Facebook profile.
Multi-media integration – lets you embed audio/video content to the wall making it rich in content and more engaging for users. Facebook allows users to upload a video file of size up to 1 GB and supports 18 major video formats.
Similarly, you can upload unlimited amount of audio content. With no restriction on the amount of upload, you can provide podcast series to your fans.
Events and Discussion Boards: Invite and Discuss
Events – serves two purposes. First they keep your fans updated with new happenings and cool offers in your kitty and secondly they help in expanding the reach of your page. Once a fan RSVP's an event, it is visible in his profile. His friends can view the event and can further RSVP it creating a snowball effect. While creating an event, time-zone differences and dates play a big role. If you have the rough demographic data of your fans, you must create an event that can be attended by majority of fans.
Discussion boards – have the power to develop a lively and interactive community around your page. Initiate some threads with eye-popping headlines that may entice the visitors to respond. Once you get a decent number of regular contributors to the forums it can help in keeping your page updated with fresh new content on regular basis.
Custom Page Settings: Personalize Visitors' Experience
Facebook pages of Bon AppÈtit Magazine and Lucky Magazine presents a perfect example of custom landing pages for non-Fans enriched with multimedia content guiding the prospect to the main site and its products.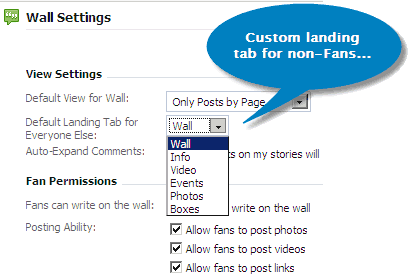 Default Landing Tab – By default fans and non-Fans both land on wall tab. Through page settings you can easily set a custom landing page for non-Fans as shown above.
Sharing/Uploading Permissions – No community can survive unless there is enough room for everyone to contribute their part. You MUST allow your fans to write, post videos, photos and links on your wall. In case any fan misuse the permissions, you can selectively block him from posting. The more freedom you will give to the fans, the more they will feel at home.
Third Party Applications: Spice Up Your Page
There are tons of Facebook applications for enriching your page with desired content. These applications are powerful, easy-to-use and extend the functionality of the page. Here are some of the popular applications that can be used to customize your Facebook page.
Profile HTML: As the name implies, this excellent application lets you add arbitrary piece of HTML code to your page. You can even create a separate tab with this application filling it with different sections of customized HTML code. Through this powerful application you can create a separate landing tab for non-Fans filling it with subscription boxes, links, post excerpts, presentations, animation slides, promos and much more. It all depends on your imagination and your coding ability.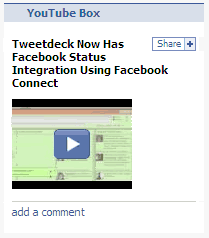 YouTube Box: Yet another popular application used by large number of Facebook users. Take a look at Discovery Channel YouTube Box. A perfect example of selecting the right kind of application to keep the readers engaged. YouTube Box allows you to embed videos from Google, Yahoo, Dailymotion, Bebo and many other video services. You can customize the layout (horizontal or vertical), can change the size of video and can give custom title and description to the video. It also supports 6 different themes to suit your taste and preferences. You can also upload a bunch of videos and can display them in random order as per your custom settings. If you have your own YouTube Channel, you can easily connect it to your Facebook page through this handy and easy-to-configure application.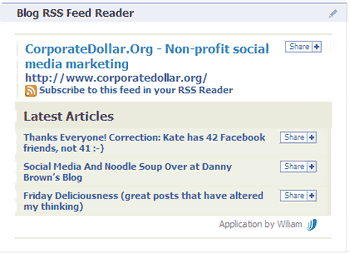 Blog RSS Feed Reader: This is a must-have application for every Facebook page. Want to share your blog articles with your fans? Use this application to grab the latest content from your blog via feed and serve them in a presentable format to Facebook community. Not only it fills your page with regular updated content, but also drives traffic to your blog or website. BR Feed Reader supports all major feed formats and provides number of customization options. Custom image, a unique icon for each feed, separate/merged feeds and custom feed update intervals helps you configure the best combination for your Facebook page.
There are many more such applications in Facebook application repository that can be used to make an appealing Facebok page. In case you are still hungry for more and want to be a true Facebook ninja, head over to Facebook developers forums. Here you can find plethora of resources to customize and enhance your Facebook account.
Custom Facebook Page URL
Normally, a typical Facebook page has a long and cryptic URL that makes it difficult for you to aggressively market and promote it. Visitors also cannot remember such long cryptic urls. How about a short custom URL like http://facebook.dj/company-name? Use this excellent Memorable Address Facebook application to create short, memorable web address for your Facebook page.
General Page Management Tips
1. Do not experiment too much with your brand image on the page.
2. If possible keep a dedicated admin for discussion board.
3. Update photo and video tabs on regular basis (at least every fortnight).
4. Every quarter, create a poll to get your fans feedback about their views on various page elements.
5. Resist the temptation to integrate tons of applications in a single tab.
6. Do include a subscription box on the custom landing page for non-Fans.
7. Keep enhanced wall posting permissions open for all (fans).